By Rebecca Zanetti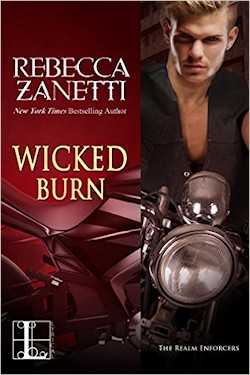 Synopsis
Simone Brightston knows she can beat the rap her enemies are pinning on her. An Irish witch is nobody's fool, and she didn't get to her position on the high council without serious power. But her cousins want her to hide out-and they somehow convinced her arch nemesis to play getaway driver.
Of all the men she's known, Nikolaj Veis is the hardest to intimidate. With his demon-dark eyes and his inscrutable beauty, he's as desirable as he is dangerous. And he knows better than to underestimate Simone. So when he pulls up on a roaring bike and tells her to climb on or fight it out, she grabs a handful of jacket and holds on tight. Running from the law may not be the smartest plan. But when it comes to Nick, hot pursuit and a blazing fast ride are exactly what Simone's looking for . . .
Review
Wicked Burn was a great way to describe this book.  It is action packed from cover to cover. Rebecca Zanetti has an amazing ability to infuse humor throughout.  I was sitting on the edge of my chair through most of the book and almost fell off it laughing.
With peace delicately put together between the different factions of immortals, the realm will never been the same after two ex-lovers run across each other. Simone is highly intelligent and ambitious witch. She will not run away from her responsibilities even if that means her death. Nikolaj is a brilliant strategist demon.  Nikolaj broke Simone's heart a century ago and she was forever changed.  Now in the present day, Simone is being put on trail for treason and Nikolaj will do everything in his power to make sure she doesn't loss her head.
Wicked Burn
My Rating: 
Visit Author: Rebecca Zanetti